The Paratrooper
Tough, rugged, and ready for anything, this mountain bike is dropped from the sky to land prepared for action. The speed of unfolding this bike for riding will blow you away. No tools required to fold and stash in your Humvee.
The Paratrooper® comes equipped with front suspension, 24-speed Shimano shifters, and heavy duty double cage aluminum pedals to tackle the roughest terrain. The Paratrooper Tactical Folding Mountain Bike uses all standard mountain bike wheels and components serviceable at any bike shop.
The Essentials
• Speeds: 24
• Wheel Size: 26″
• Folded Size: 36″x28″x12″
• Approx Weight: 32lbs
Frame Size
• Small – 16″: For riders 4'8″ – 5'2″
Standover height is 28.13″
• Medium – 18″: For riders 5'3″ – 5'10"
Standover height is 28.13″
• Large – 20″: For riders 5'11" – 6'4″
Standover height is 29.13″
Great For
• Rough trails
• Hauling Gear
• Bike Camping
• Recon missions
Specifications
Color
Matte Cammy Green
Frame
Custom drawn 7005 Series Aluminum with DirectConnect System.  Replaceable derailleur hanger and disc mount
Fork
SR Suntour XCT suspension. 80mm travel. Alloy one piece lower. Disc Compatible
Rims
26″ Alloy, 32 hole. Double Wall.  Black
Tires
Kenda Kinetics. 26″ x 2.10″
Hubset
Formula. Black. Alloy. Disc Compatible. Sealed front & rear with CLIX® front quick release
Spokes
14 Gauge Stainless
Saddle
Aero Mountain
Seatpost
30.0 X 300mm Alloy with Montague logo
Handlebars
Kalloy. Alloy. 7 degree backsweep. 31.8 Barbore. 580mm length
Stem
Kalloy. Alloy Direct Connect. 105mm. 7 degree rise
Shifters
Shimano RAPIDFIRE Plus Trigger Shifter
Front Derailleur
Shimano Top Swing Dual Pull
Rear Derailleur
Shimano Deore
Crankset
SR Suntour XCC. 42/32/22. Alloy 170mm crank arm. Matte Black
Speeds
24 Speeds
Brakeset
Mechanical disc w/ pad adjustment. Alloy Levers
Pedals
Platform pedal with steel cage
Bottom Bracket
Sealed Cartridge
Other
RackStand rear rack with fenders (Not sold with front fender in some international markets)
Frame Sizes
16″, 18″, 20″
Folded Size
36″ x 28″ x 12″
Specifications and prices subject to change without notice. Bike specifications and prices for your country may differ. We do our best to ensure that the listed specifications accurately reflect the parts found on our folding bikes. Even so, we may have to change the component specifications from time to time. We do our best to make sure that all component substitutions are of equal performance and cosmetics as those listed . Also our international distributors often ask us to modify components to better suit their local markets. Please contact your local distributor for information about bikes in your area.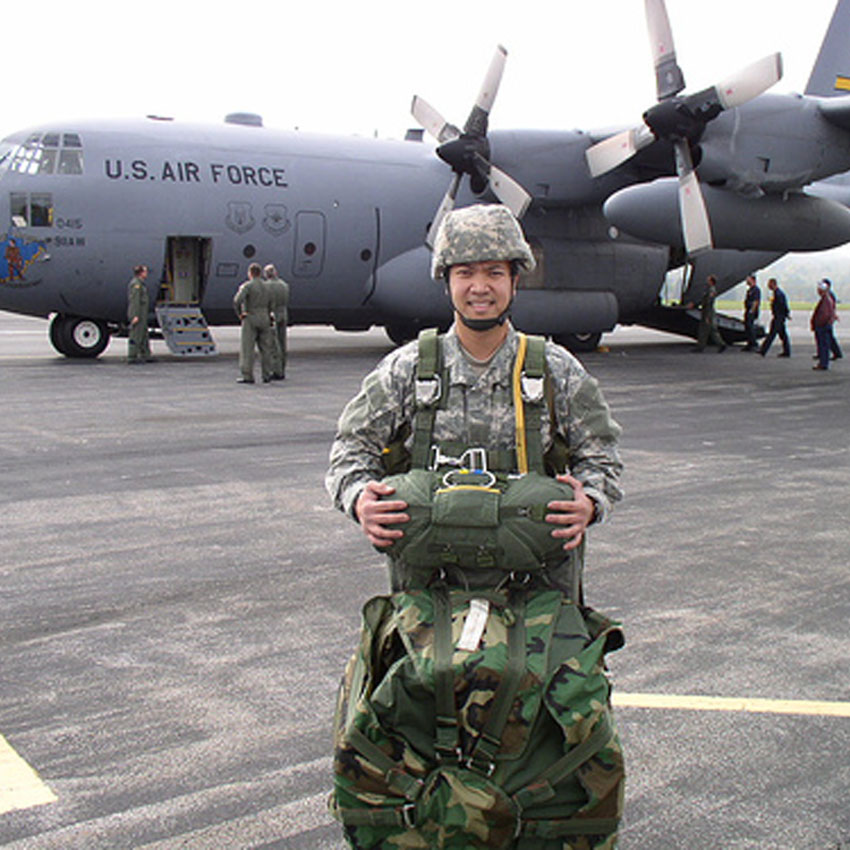 Air Drop Ground Mobility
The Paratrooper Tactical Mountain Bike was designed as ground mobility for airborne units. It is a sturdy, durable full size Mountain Bike, designed to fold so the bike can be dropped on a static line. Once on the ground the bike is unfolded and serves as effective, efficient and stealthy ground transportation, allowing easy evacuation upon completion of a mission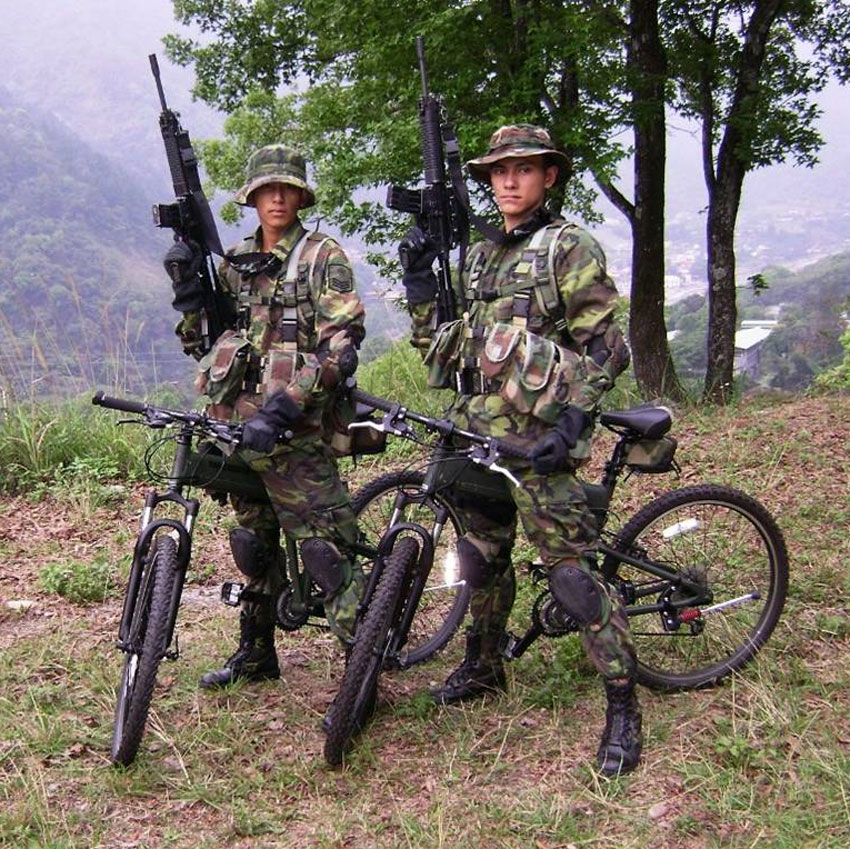 LAV / Reconnaissance Scout
Using the Paratrooper Tactical Mountain Bike in conjunction with LAV's or APC's, allows the company increased mobility and security. The Paratrooper Reconnaissance model folds so you can attach it to the side of vehicle and serves as back- up transportation. The Paratrooper is a stealthy recon/scout vehicle able to travel with little to no thermal and acoustic signatures.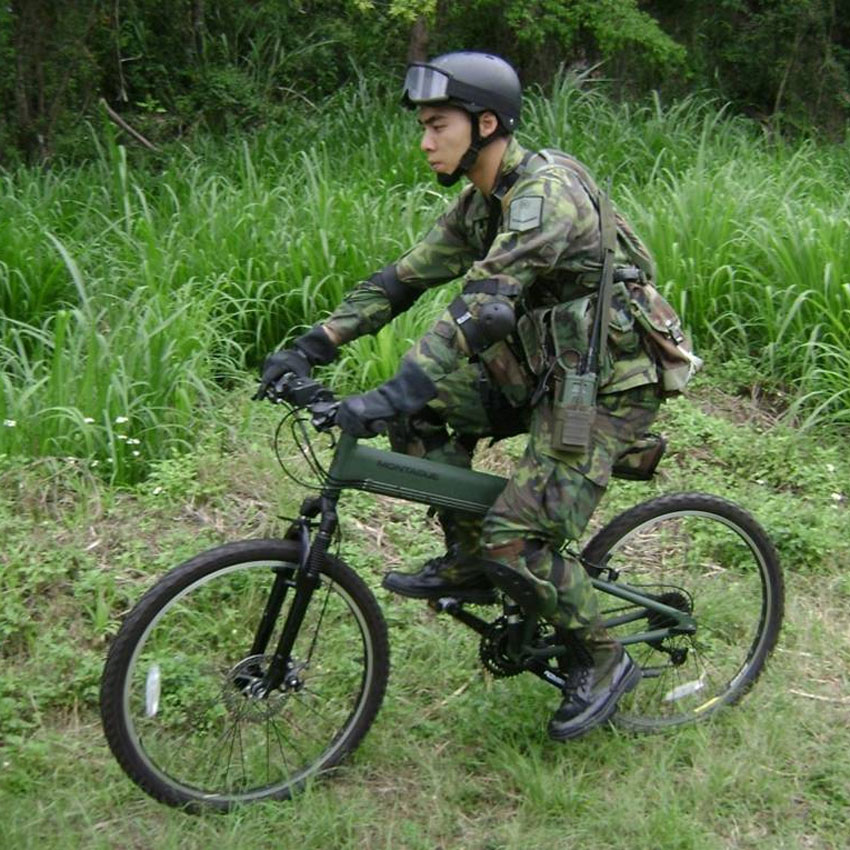 Alternative to Foot Solider
The Paratrooper Tactical Mountain Bike offers the most efficient form of human powered transportation available. Men on mountain bikes have off-body load bearing capabilities, can traverse any terrain, move at high speeds without breakdown, and can refuel themselves with local water and food. It is also a great moral builder – the guys really enjoy traveling around on a bike rather than on foot.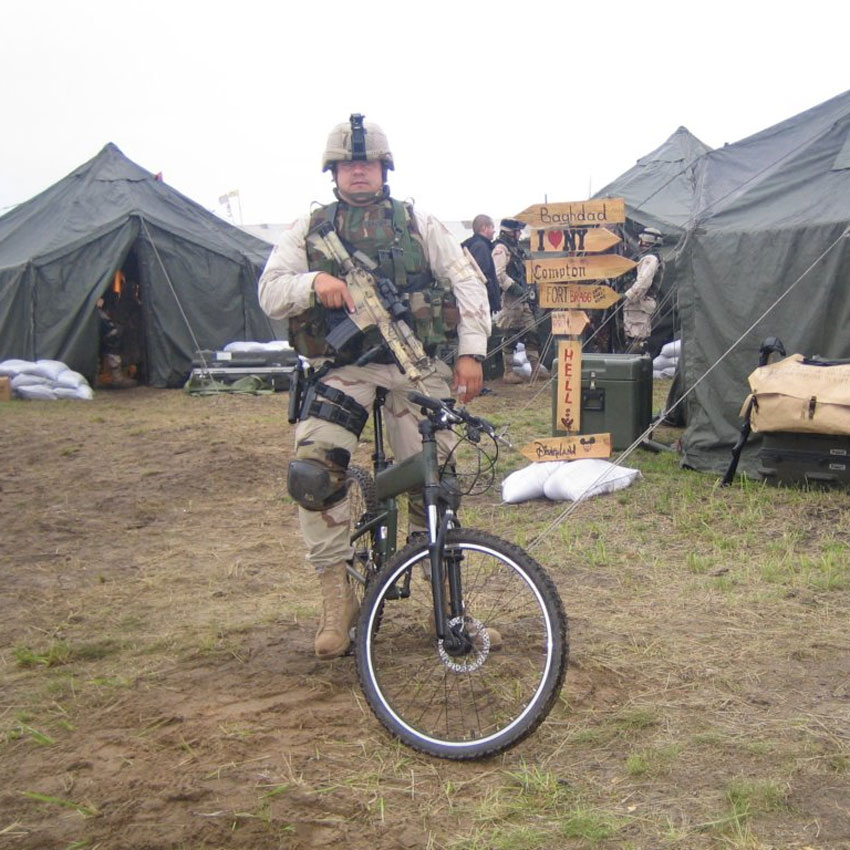 Law Enforcement / Emergency
Bicycles are a proven method of law enforcement and are being used increasingly by agencies throughout the country to patrol areas previously patrolled on foot or on horse. The Paratrooper model folds to fit in the trunk of a police cruiser, the officer can now drive to any location, park, remove the bicycle from the trunk of the cruiser, unfold and begin patrolling otherwise hard to protect areas.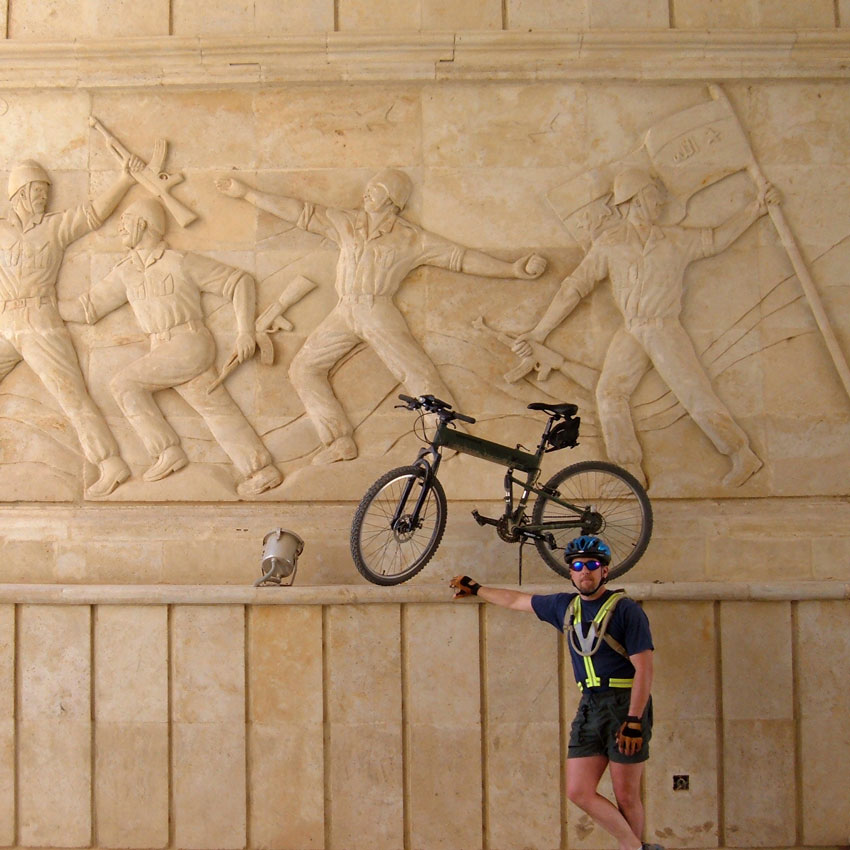 Personal Transportation / Recreation
While the Paratrooper was designed with the most rugged scenarios possible in mind, this doesn't discount it as a great bike for commuting, travel, mountain biking, or anything else. Shortly after Montague developed the paratrooper in conjunction with DARPA, the company created a do-it-all version of the paratrooper for civilians. Both rugged and dependable, this bike will allow you to ride year round be it to the coffee shop or down the side of a mountain.
System
Load Capacity
Daily Range
Speed
Fuel Per Day
          Foot-infantry

50 pounds

25 miles
@ 3 MPH

3 lbs. MRE for rider

24 lbs. H2O for rider

  Bike-Infantry

75 pounds

75 miles
@ 10 MPH

3 lbs. MRE for rider

24 lbs. H2O for rider

 Horse/Rider

 

100 pounds

100 miles

@ 15 MPH

40 lbs. Hay

150lbs. H2o

3 lbs. MRE for rider

24 lbs. H2O for rider

 Motorcycle/Rider
100 pounds
300 miles
@ 40 MPH

55 lbs. Gas

? oil + pumping/storage

Equipment

3 lbs. MRE for rider

25 lbs. H2O for rider

 5-Ton Truck
10,000 pounds
300 miles
@ 40 MPH

710 lbs. Dsl.

? oil + pumping/storage

Equipment

3 lbs. MRE for rider

25 lbs. H2O for rider

 AAV (APC)
10,000 pounds
240 miles
@ 30 MPH

1,234 lbs. Dsl.

? oil + pumping/storage

Equipment

3 lbs. MRE for rider

25 lbs. H2O for rider
Civilian Sales
The original Paratrooper military bike was made available for civilian sales through Montague Corporation.
Visit www.montaguebikes.com for more information.